"Meeting with Institute of Charter Accountants of Pakistan to Promote Commercialization"
Director Office 153 Campus SZABIST Karachi
December 01, 2022
A consultation meeting between Institute of Charter Accountants of Pakistan and ORIC SZABIST to promote commercialization and Business Incubation activities on December 01, 2022 at Director  Office 153 Campus SZABIST Karachi. Dr. Bilal Ahmed the Director ORIC and Nayyar Ahmed Siddiqui a Research Associate of ORIC attended the meeting. "I-Thrive is to reignite the entrepreneurial spirit of the emerging talent in the country, and across the globe, while serving as the Center of Excellence for sustained economic development and contribution to the society at large" Mr. Ibrahim Ahmed Zahidie the Lead Advisory & Transformation shared a small introduction to I-Thrive with ORIC SZABIST.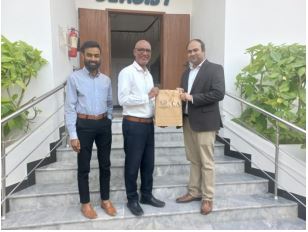 Mr. Junaid Ahmed the Program Manager of I-Thrive campaign of ICAP informed ORICSZABIST that this program of ICAP intends to fuel entrepreneur spirit while inculcating innovating bent of mind among the members. Initially, ICAP received sixty (60)applications for the first drive and we have successfully graduated the first batch of five (5) students. Now ICAP is going to start its second batch of Ten (10) students. He invited Dr. Bilal the Director of ORIC SZABIST to send potential students that have innovative ideas in the second drive of I-Thrive which is going to launch in the mid of December 2022.
Dr. Bilal discussed the candidature of students who can participate from SZABIST in this drive. He assured that as a reputable business institute we have a pool of potential students that have the capacity to start new start-ups in minimum time. Mr. Nayyar Ahmed Siddiqui discussed the scale-up program of commercialization and summarized the conclusion that ICAP assists in the development of business incubation activities, that comprises the development of Business proposal, Marketing and Financial Planning documents and ultimately transform their start-ups into sustainable businesses. Meeting ended on a note of thanks from participants.